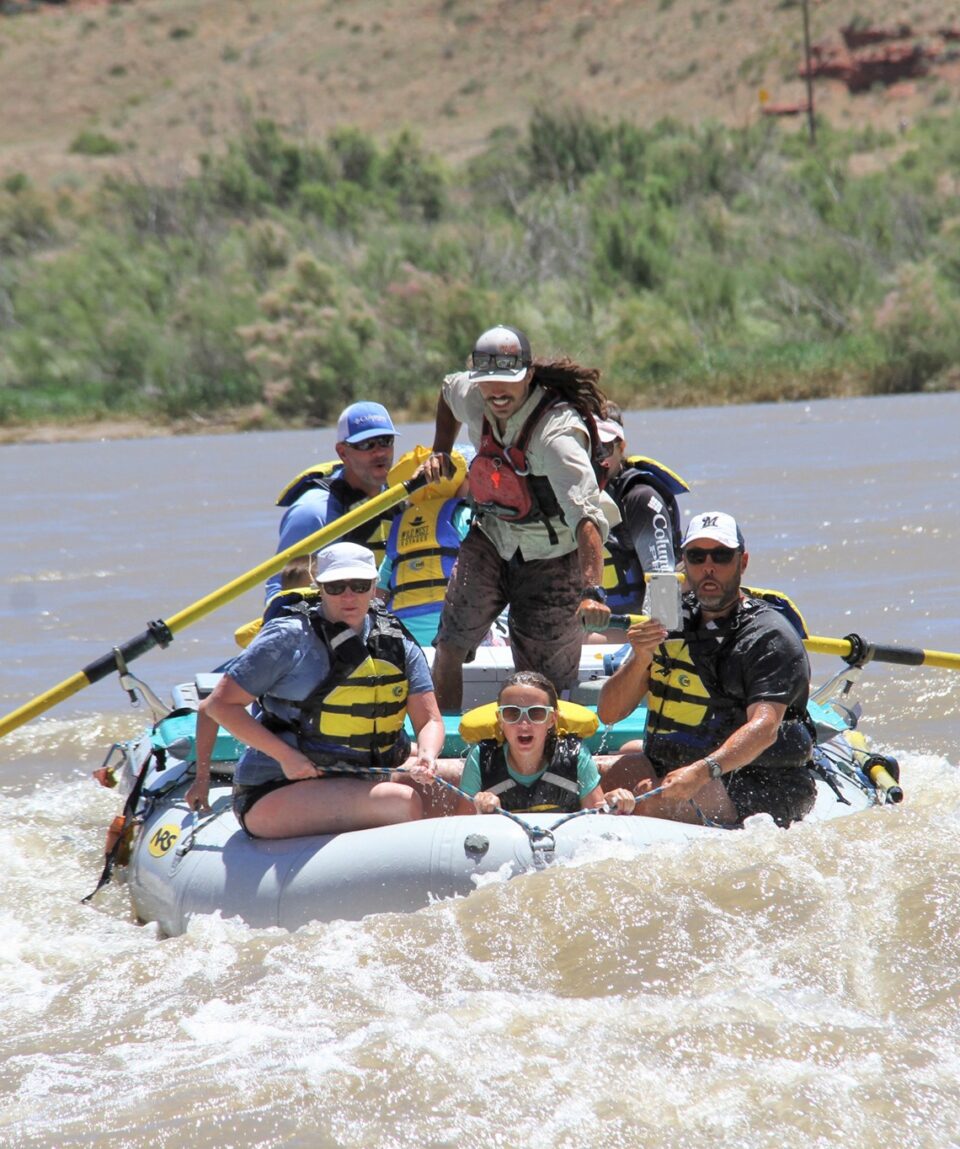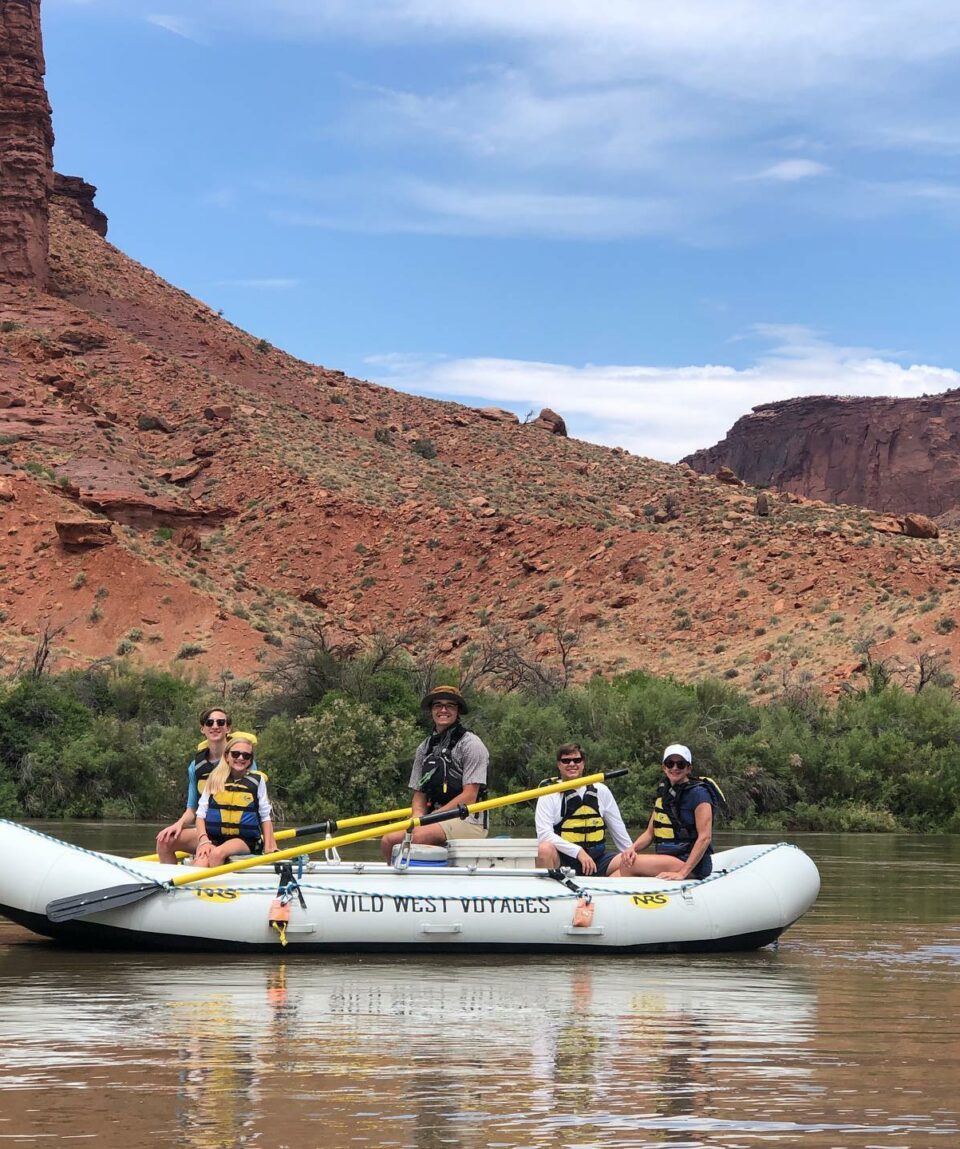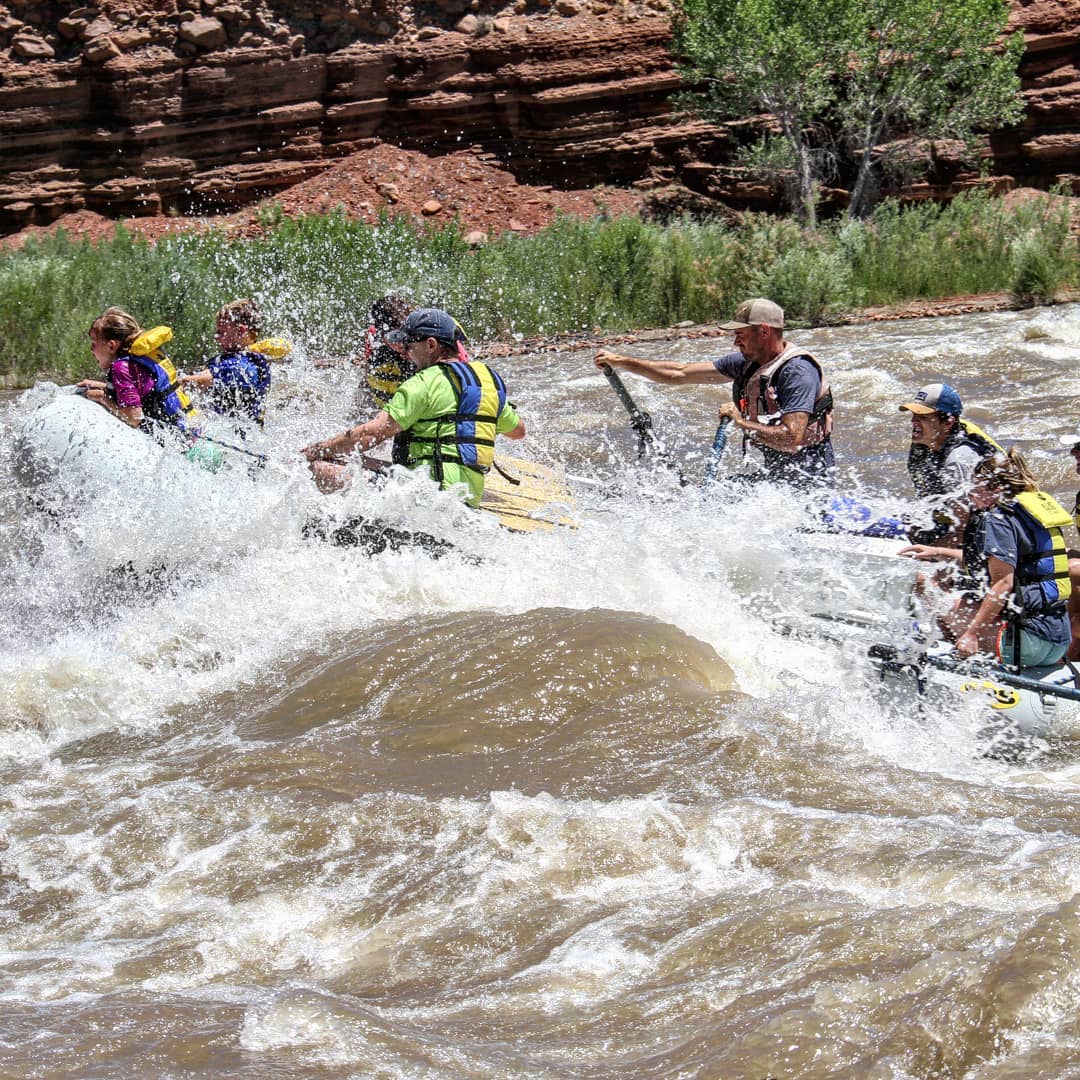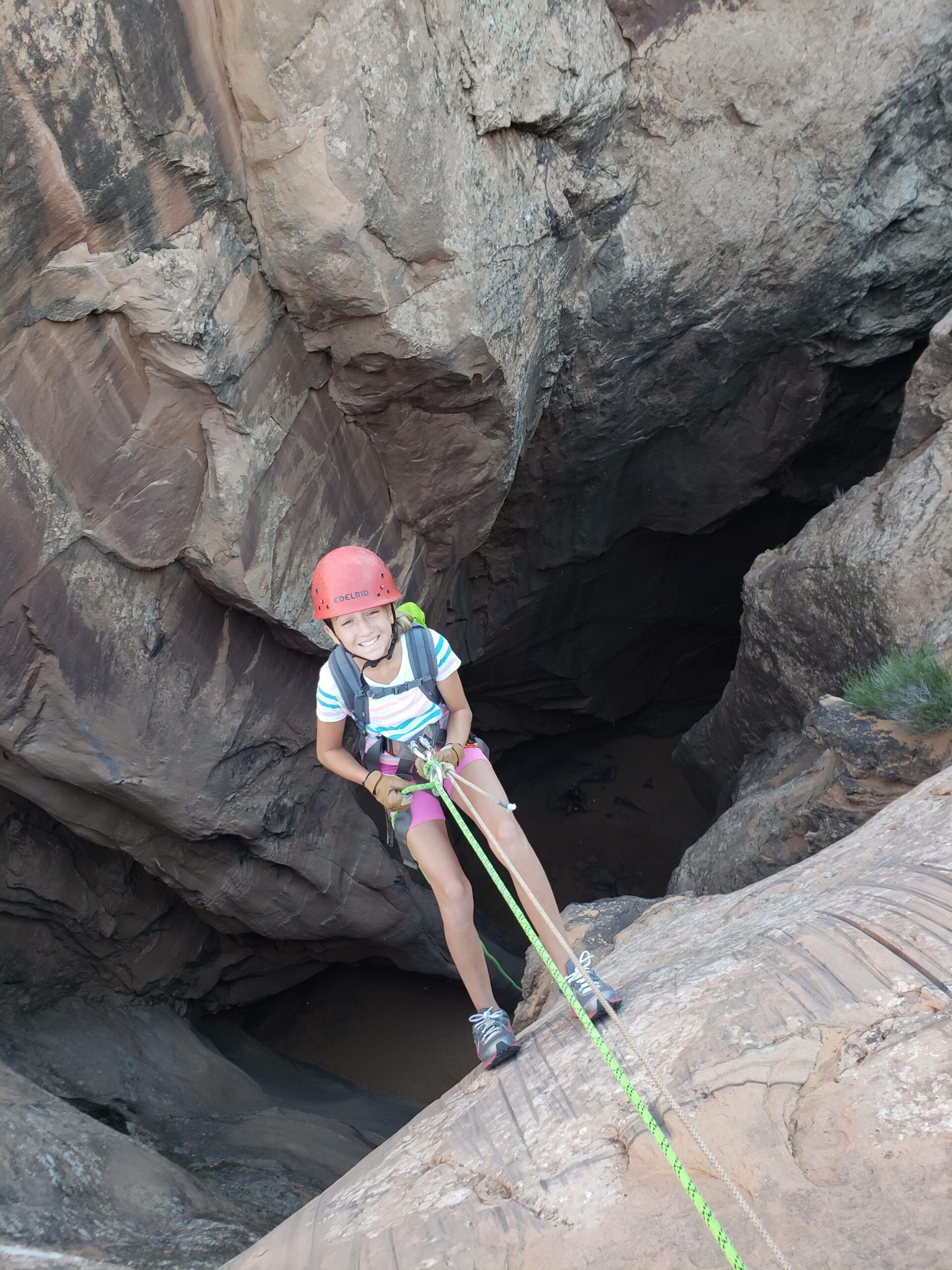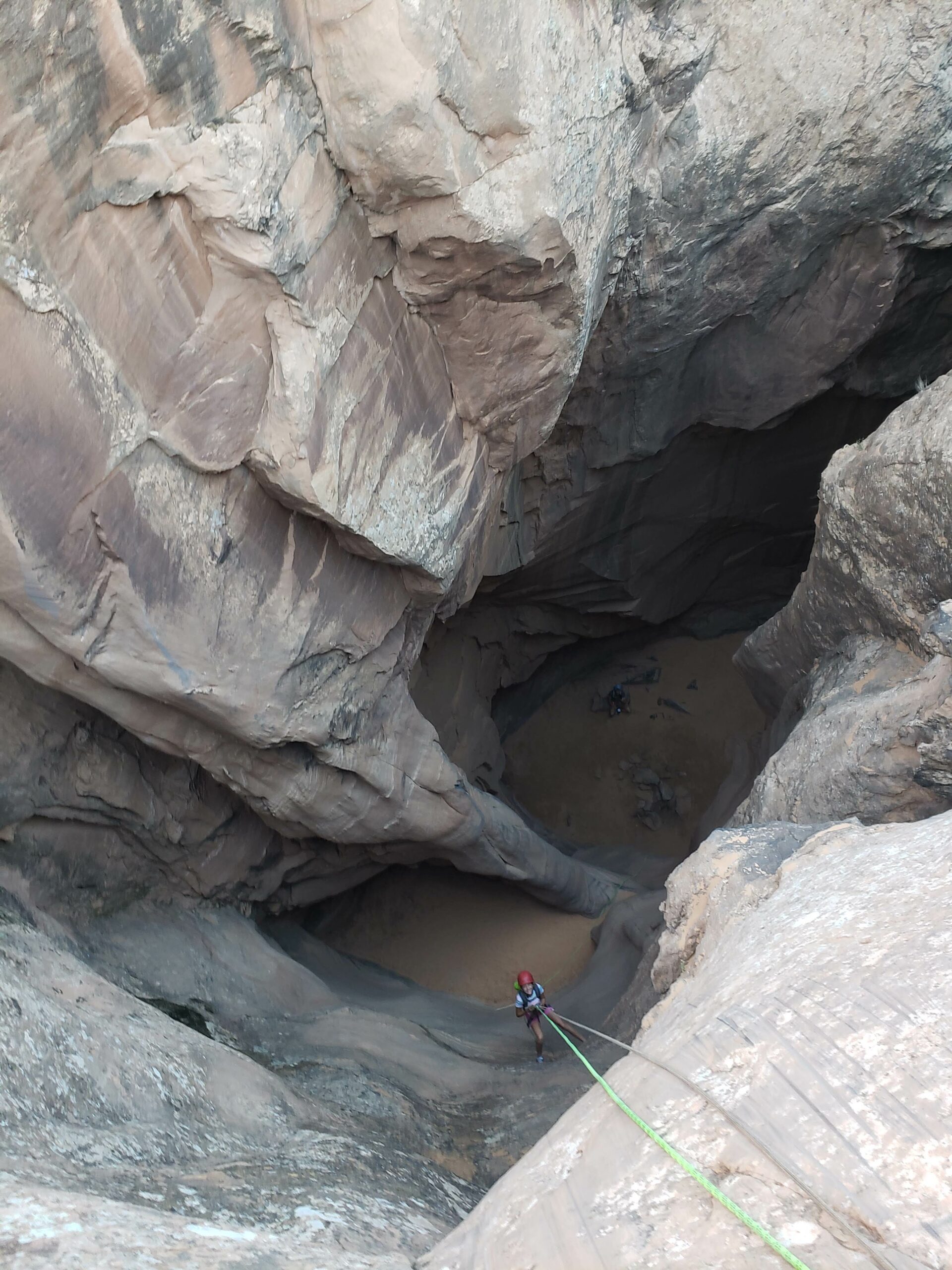 Moab Canyoneering & River Rafting Combo
from
A perfect day of Rocks-and-River: combine a half day of canyoneering with a late day Colorado River rafting tour!
Begin with an unforgettable 4-6 hour hiking and rappelling experience in either Medieval Chamber (challenge level: easy) or Entrajo Canyon (challenge level: easy to moderate).  This will be a private experience for your group brought to you by Desert Highlights, Moab's original canyoneering guide service.  For lengthier tour descriptions, visit our Canyoneering page here or book your canyoneering and rafting tour with the buttons below! If plan to book an afternoon rafting tour, please choose the 7 AM canyoneering slot.
Follow it up with a classic rafting experience on the Colorado River with Wild West Voyages.  This is a mild-to-moderate whitewater experience (depending on seasonal flows). You can contemplate the later light of the day along the canyon walls, learn about the geologic and human history of the river, hang on tight for the rapids and take a dip in the calms. Choose between an active guided paddle raft trip (your group paddles with the guide) or a relaxing guide-row oar raft, depending on your desired activity level.  Both Shared Group and Private Charter experiences are available.
Vacation Style

Holiday Type

Activity Level

Easy/Moderate
All about the Moab Canyoneering & River Rafting Combo.
Duration: 7-9 hours
Difficulty: Easy – Moderate
Total Hiking Distance: 2 or 3 miles
Rappels: 2 (2x 100 feet or 15 & 90 feet – depending on chosen canyon)
Rapids: Class I-III (depends on chosen river section and river levels)
Season: All Year
Age/Weight Limit: Age 5 and 50 lbs
These tours are booked separately, so please click the booking links to view pricing for each activity.
Combining one of our half-day canyoneering adventures with an afternoon of boating is an excellent way to spend a full day in Moab. Our custom trips allow you to combine a canyon and river experience that meets the goals and abilities of your group.
Canyoneering (choose 1):
Medieval Chamber – This half day canyon tour takes us across ancient sand dunes and down into a lush canyon with flowing water by way of 2 spectacular rappels, each around 100 feet in length. With expert guidance, this Moab canyoneering route is one of the best beginner and family friendly tours around.
Entrajo Canyon – This canyon tour is a more adventurous half day, combining easy rock climbing, hiking and rappelling to visit one of Moab's best slot canyons. We'll wade through pools of water and rappel in narrow spaces to navigate this beautiful passage. This canyoneering route does not require any previous experience – just a sense of adventure!
Rafting on the Colorado River (choose 1):
Half-day Paddle Raft Tour – An active rafting experience on the Colorado River near Moab. Dig in and work together with your guide to navigate the flows. When you're not paddling, gaze at the astounding beauty of canyon country or enjoy a refreshing dip in the calms. Routes include mild to moderate rapids (class I-III, depending on season). Trips average 2 – 2 1/2 hours on the water (plus transportation time). We can customize your route to suit your group's adventure goals. Activity level: moderate.
Relaxing Guide-Row Oar Trip – Admire the golden light and ever-changing colors on the canyon walls along the Arches National Park boundary. End your day on a natural high of "river magic." Let us literally row you into the sunset as you relax contemplate the journey on your own private raft trip. Rapids vary depending on water levels and season (range is class I-III). The perfect way to cap off your adventures for the day. Activity level: mellow
This is one of the most enjoyable trips in the Moab area, especially in the hot summer months when being on the water is a real blessing. The day's awesome technical challenges in the canyon and the fun whitewater (or relaxing flatwater!) on the river make it a very unique and memorable adventure.
The tour package inclusions and exclusions at a glance
What is included in this tour?
Items that are included in the cost of tour price.
All canyoneering gear and safety equipment
All river rafting gear
Instruction from experienced and fun guides
Private shuttle to and from the canyon and river
Private tour
Snacks and water on the river
What is not included in this tour?
Items that are not included in the cost of tour price.
Lunch is not provided. You should have time after canyoneering to grab a quick bite to eat in town before meeting the folks at Wild West Voyages for your afternoon of rafting.
Water – we recommend at least 2 liters of water per person for hiking
For cooler months on the river, splash gear is available for rent