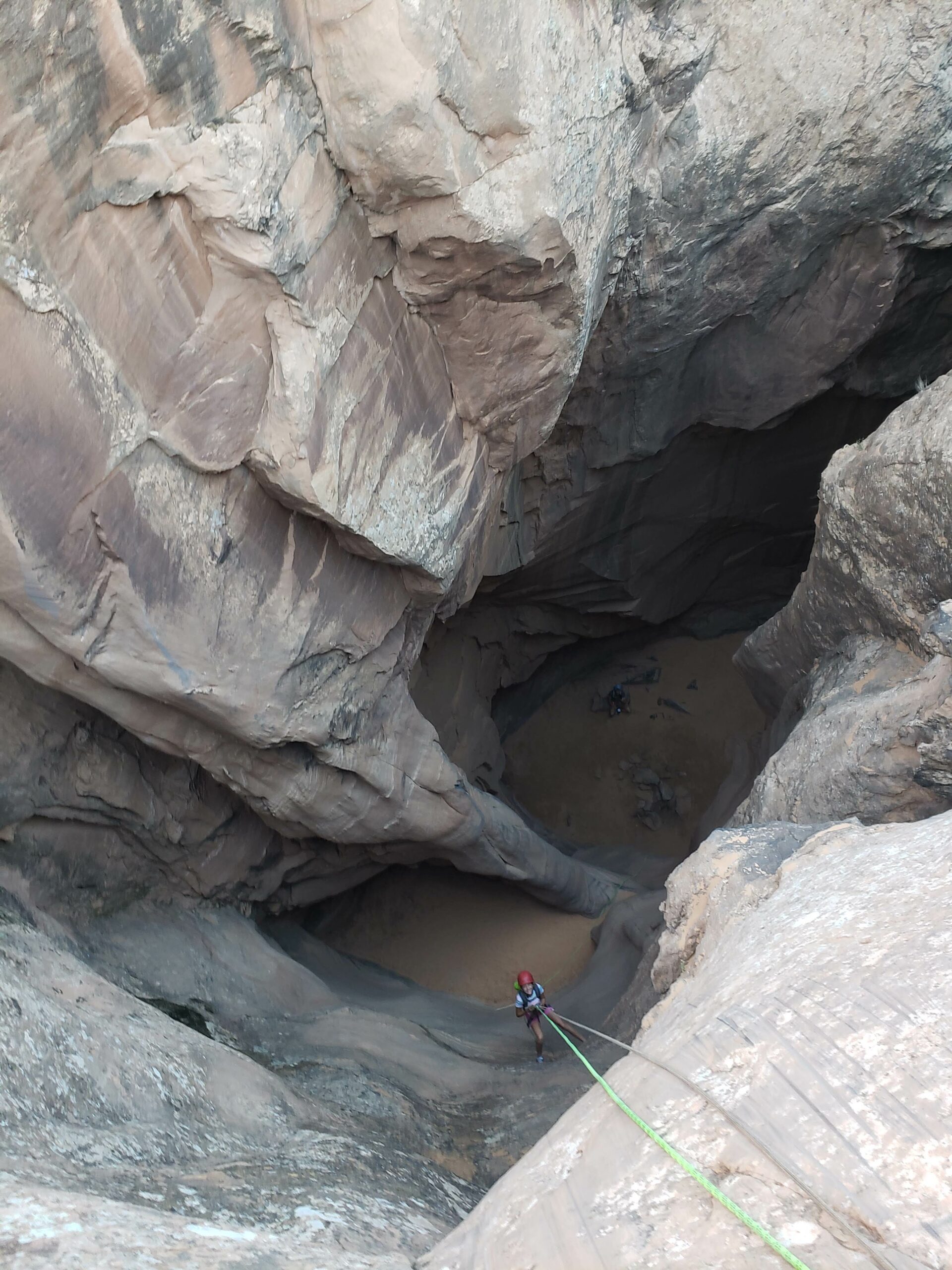 Medieval Chamber
from
Easy hiking and long, dramatic rappels!
This half day canyon tour takes us across ancient sand dunes and down into a lush canyon with flowing water via two spectacular rappels, each around 100 feet in length. The first rappel deposits us into the route's namesake – the Medieval Chamber – a deep, dark hallway that cannot be accessed without the use of ropes. From there, we continue to our second rappel, next to one of Moab's largest natural bridges – Morning Glory Bridge. With expert guidance, this excellent Moab canyoneering route is one of the best beginner and family friendly tours around.
Vacation Style

Holiday Type
All about the Medieval Chamber.
Duration: 4-6 hours
Difficulty: Easy
Total Hiking Distance: 3 miles
Rappels: 2 (90 ft/27 m, 100 ft/30 m)
Distance from Moab: 15 minutes one-way
Season: All year
Morning and afternoon trips available
All tours are private – just your group and your guide!

2-3 people – $134/person

4-13 people – $120/person

14+ people – call for availability
The Medieval Chamber is a very pleasant adventure into one of Moab's finest canyons.
We begin our hike over ancient petrified sand dunes and big open views of the La Sal Mountains and Arches National Park. We soon reach the canyoneering route's namesake feature – the Medieval Chamber – a deep, dark slot canyon that creates our first rappel. We'll spend time here discussing gear and rappelling technique before clipping into the rope and backing off into the void! You're always backed up with a second rope that your guide is controlling, so you can rappel with ease as you marvel at the rock walls around you!
At the bottom you'll probably think you're in a different world than the others still at the top. You'll probably also think that the rappel wasn't as terrifying as you thought it would be! Behind you, the Keyhole, a subtle and narrow passageway, provides an escape from the Chamber's seemingly exitless confines.
​Once all down, we continue on and are soon presented with the massive Morning Glory Arch. Despite being the ninth longest arch in the world , it is discreetly shoehorned into the canyon and we quickly find ourselves level with the top of the 243′ long span. The canyon floor plummets 100 feet below. Since we've just pulled our ropes at the Chamber, there's no way out but to rappel and this rappel is quite spectacular. We begin our rappel on the wall with the huge arch spanning behind. As you begin your descent to the canyon bottom, the wall sweeps away and leaves you free-hanging. Be sure to look around and down into the lush green canyon below! While on rappel, you can turn to see the arch behind you – this is a view of the arch that you're sure not to forget.
​Below this awesome span a lively spring gushes transforming the canyon from a dry, shallow-walled slickrock valley to a deep red rock gorge carpeted with lush colorful plant life. In the hotter months, the clear pools of water begat from this spring provide welcome relief and reward to those who overcome this route's notorious roped descents. The hike out follows the Grandstaff Canyon (formerly known as Negro Bill Canyon) trail, which is a very enjoyable stroll. If you plan to hike the Medieval Chamber route with us then we recommend you not hike the Grandstaff Canyon trail beforehand since we have to hike out that trail anyway. This is, by far, the most interesting way to see that canyon!
This is one of the best canyoneering tours in Moab. Its proximity to town and its awesome rappels makes it a sure bet for a memorable adventure. Though experienced canyoneers will find the rappels breathtaking, the trip is enjoyable even for novice canyoneers. As daunting as the rappels sound, with a good guide everyone does just fine.
The tour package inclusions and exclusions at a glance
What is included in this tour?
Items that are included in the cost of tour price.
All canyoneering gear and safety equipment
Instruction from experienced and fun guides
Transportation to and from the canyon
Private tour – just your group plus your guide(s)!
What is not included in this tour?
Items that are not included in the cost of tour price.
Snacks – please bring enough to be out and active for 4-6 hours
Water – please bring between 1 and 2 liters per person
Price does not include tax or guide gratuity
We rate our canyoneering trips based on physical difficulty. The Medieval Chamber tour is a one-way, mostly downhill hike with very minimal elevation gain. The first mile of the trail is on open slickrock and the last 2 miles are on an established trail in the bottom of a wide canyon. The rappels are straightforward and great for beginners.
Unfortunately, no. This trip is a one-way, so your group and your guide will get dropped off at the top and finish the hike in a different location. Therefore, these 2 rappels are mandatory. Our guides are very patient and encouraging, but these rappels may require some folks to dig deep and find the courage they need to overcome their fears. This canyon is very beginner friendly – no prior rappelling experience is required – just a sense of willingness to learn and try something new!
Absolutely! Our private tours allow us to spend plenty of time at the top of each rappel going over rappel technique, answering questions, etc. On every rappel, you will be backed up with a second rope that the guide can use to slow you down or take over control if necessary. You'll "learn the ropes" and be able to control your own speed, but you'll never be 100% on your own.
For this canyon, whatever you would wear on a regular hike will be just fine. You can check the weather here before you arrive. Bring a warm layer for the spring and fall months. We require closed-toe shoes, and in the summer we recommend that you wear shoes you don't mind getting wet. The last 2 miles of this hike are along a flowing creek, and it can be nice to walk (or lay down!) in the water when temps are above 85 degrees or so.
Please visit our FAQ page for answers to general questions about canyoneering.