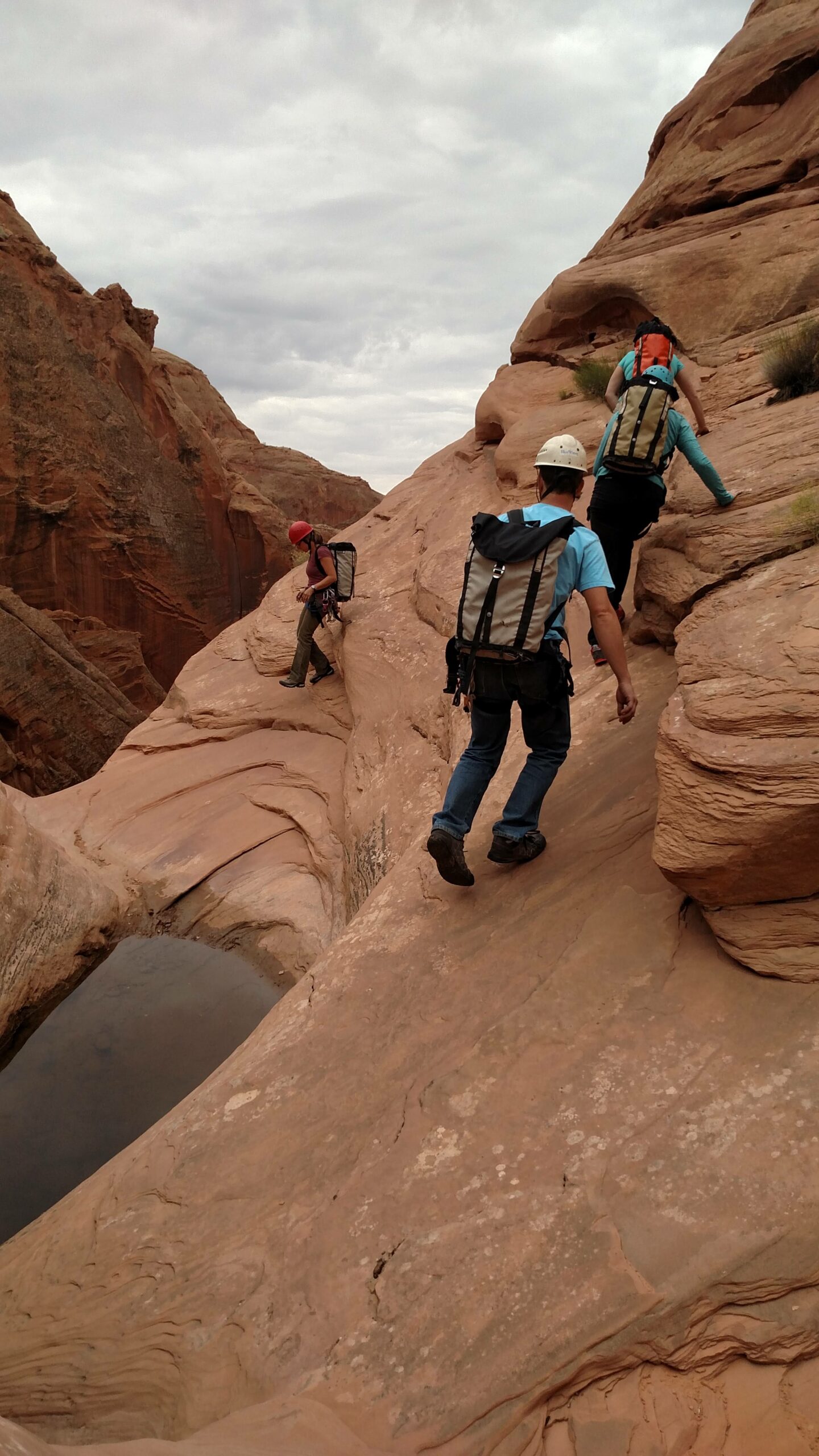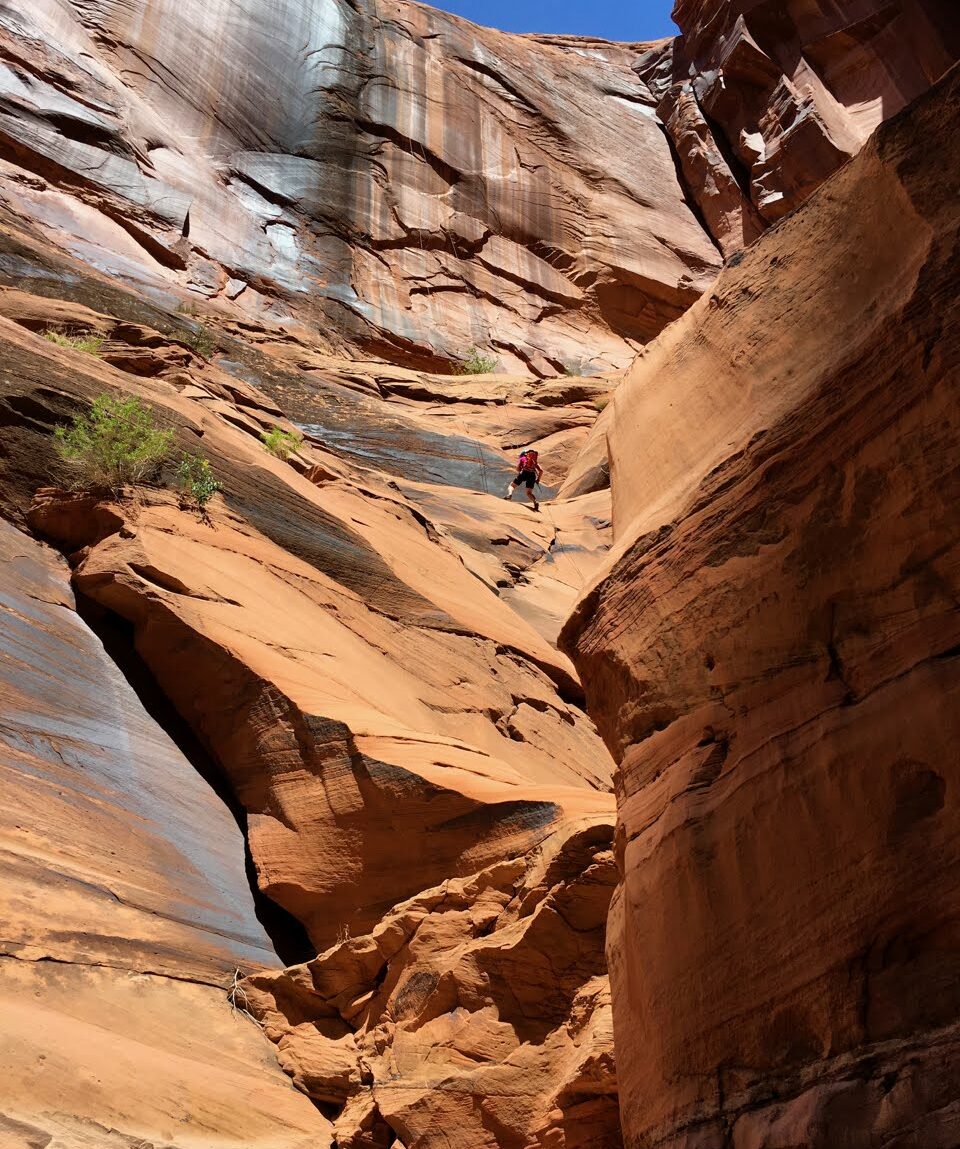 Zig Zag Canyon
from
A DH exclusive! A maze of sandstone fins with unparalleled views and a huge rappel!
During this canyon tour, we enjoy easy climbing, big views and a 220-foot rappel – the longest guided rappel in Moab!
This adventure is a winding, circuitous loop hike that has us gaining and losing several hundred feet of elevation over three miles of exploration. Like most DH routes, this is an original Moab canyoneering route that we have developed in response to the increasing difficulty of getting off the beaten path and immersing oneself into solitude and sandstone majesty. We travel through beautiful terrain that has not been seen by many, and we end the day with a spectacular 220-foot rappel that is sure to leave you feeling proud, accomplished and full of bragging rights!
Vacation Style

Holiday Type

Activity Level

Easy/Moderate
All about the Zig Zag Canyon.
Duration: 5-7 hours
Difficulty: Moderate
Total Hiking Distance: 3 miles
Rappels: 3 (​30ft/9m, 40ft/12m, 220ft/67m​)
Distance from Moab: 10 minutes one-way
Season: All Year
All tours are private – just your group and your guide!

2-3 people – $194/person
4-13 people – $170/person
14+ people – call for pricing and availability
Are you ready to get lost in a maze of sandstone canyons, fins, walls and wash bottoms? The day begins with a brief stroll out to a unique rock art panel. These petroglyphs were pecked and carved into the rock by ancestral native groups 700 to 1500 years ago. From here, it's time to get physical! The unbroken slickrock walls surrounding us yield only the occasional weakness and we must seek one out to begin the climb to the top. Mostly third class, this section involves the use of our hands and feet to progress upwards. The occasional use of rope will be utilized in the more exposed sections to protect against a fall. We will set a slow pace and take plenty of breaks along this scrambling (easy climbing) section.
Eventually, the hard work pays off when we reach a high point and are rewarded with incredible views in every direction. It is nice to know that this view can only be obtained through the hiking and scrambling we just completed. Now we must wander through some confusing terrain and do more scrambling to reach yet another high point. Along the way, a second rock art panel located 40 feet above the wash bottom can be observed. Why is it located so high on that cliff? What were they doing way up here? These questions are typical as we marvel at the work of artists completed centuries ago. Finally, we get our first glimpse into the canyon we must descend.
​Careful downclimbing leads to another wash bottom. The trip changes nature slightly as we stroll down the unassuming dry stream bed. Confronted with the occasional small pour off, we must do some problem solving to reach our first rappel. This includes the introduction of new canyoneering techniques like chimneying.
Finally, our first rappel is in sight! At 30 feet, this low angle ramp is a great place to learn how to rappel under the careful instruction of your knowledgeable guide. A short walk down canyon brings us to the next rappel. Another 30 foot drop twists down through a beautiful corkscrew. Occasionally, the corkscrew holds water, but with a little cunning it can be avoided. Finishing this twisty rap delivers us onto a small platform with a truly mega dry falls just beyond it. Not for the faint of heart, this 220 foot drop begins as a free-hanging rappel followed by a steep wall that brings us to the canyon floor.
With all of the excitement and hard work behind us, the bottom of this deep canyon is a wonderful place to stop, look around and eat a well deserved lunch. Looking all the way back up to the top of the final rappel, it is difficult to believe we just descended from that distant rim!
At some point, we must pull ourselves away and begin the hike out and back to our shuttle vehicle. With big rappels, unrivaled views, and gorgeous sandstone formations, Desert Highlights' newest offering is not to be missed!
*** Does this not sound demanding enough for you? Ask about the extra long version of Zig Zag, 'The Desert Wanderer!' This trip covers three times as much ground, has additional rappels and involves roped rock climbing up to 5.7 on the Yosemite Decimal System (check out our FAQ's for a description of the YDS). This option is our most challenging offering in the immediate Moab area. Because of length and overall difficulty, group size is limited to five people. Bring a headlamp!
The tour package inclusions and exclusions at a glance
What is included in this tour?
Items that are included in the cost of tour price.
All canyoneering gear and safety equipment
Instruction from experienced and fun guides
Transportation to and from the canyon
Private tour – just your group plus your guide(s)!
What is not included in this tour?
Items that are not included in the cost of tour price.
Lunch and snacks – please bring enough food to be out and active for 5-7 hours
Water – we recommend at least 2 liters of water per person
Price does not include tax or guide gratuity