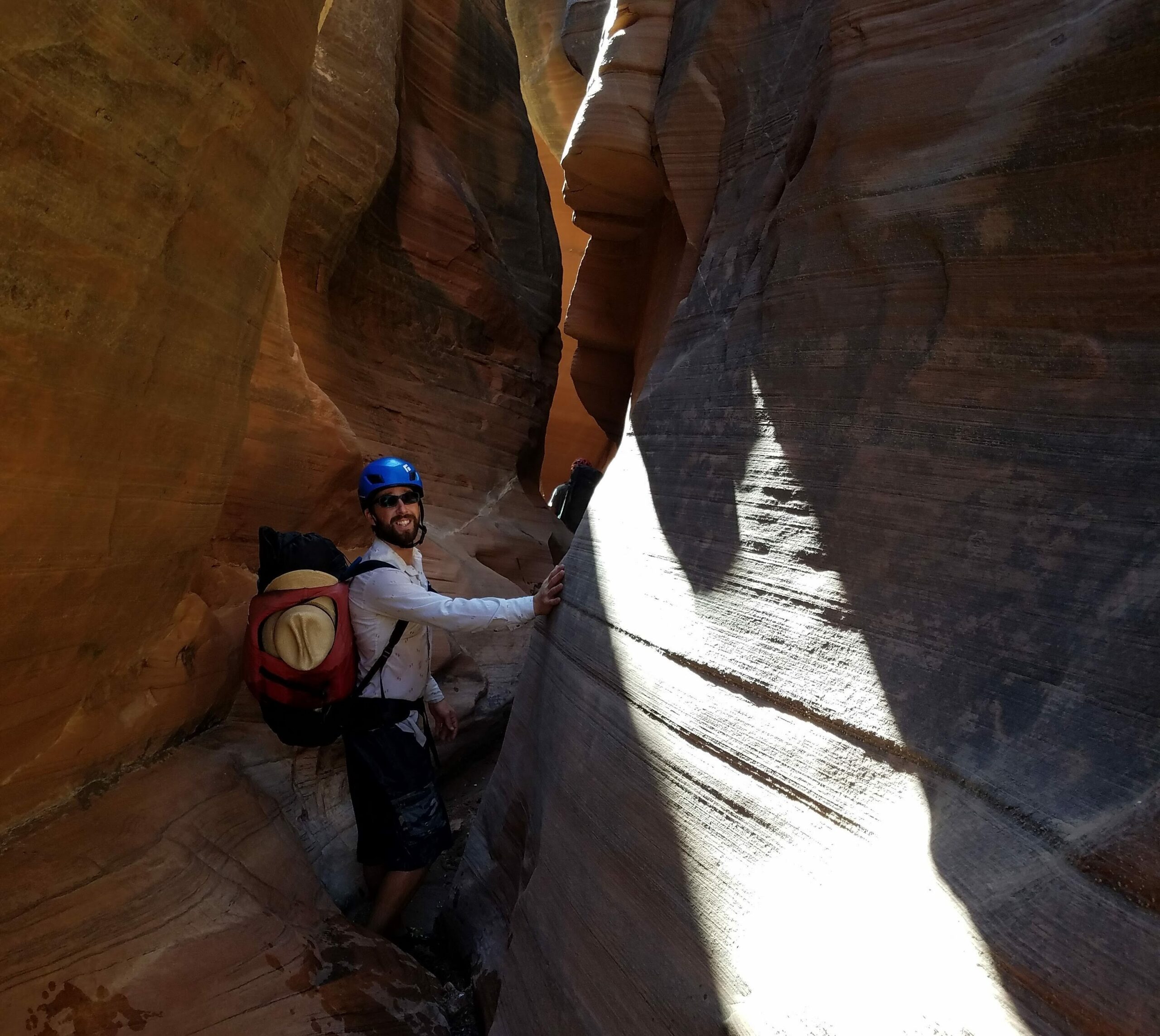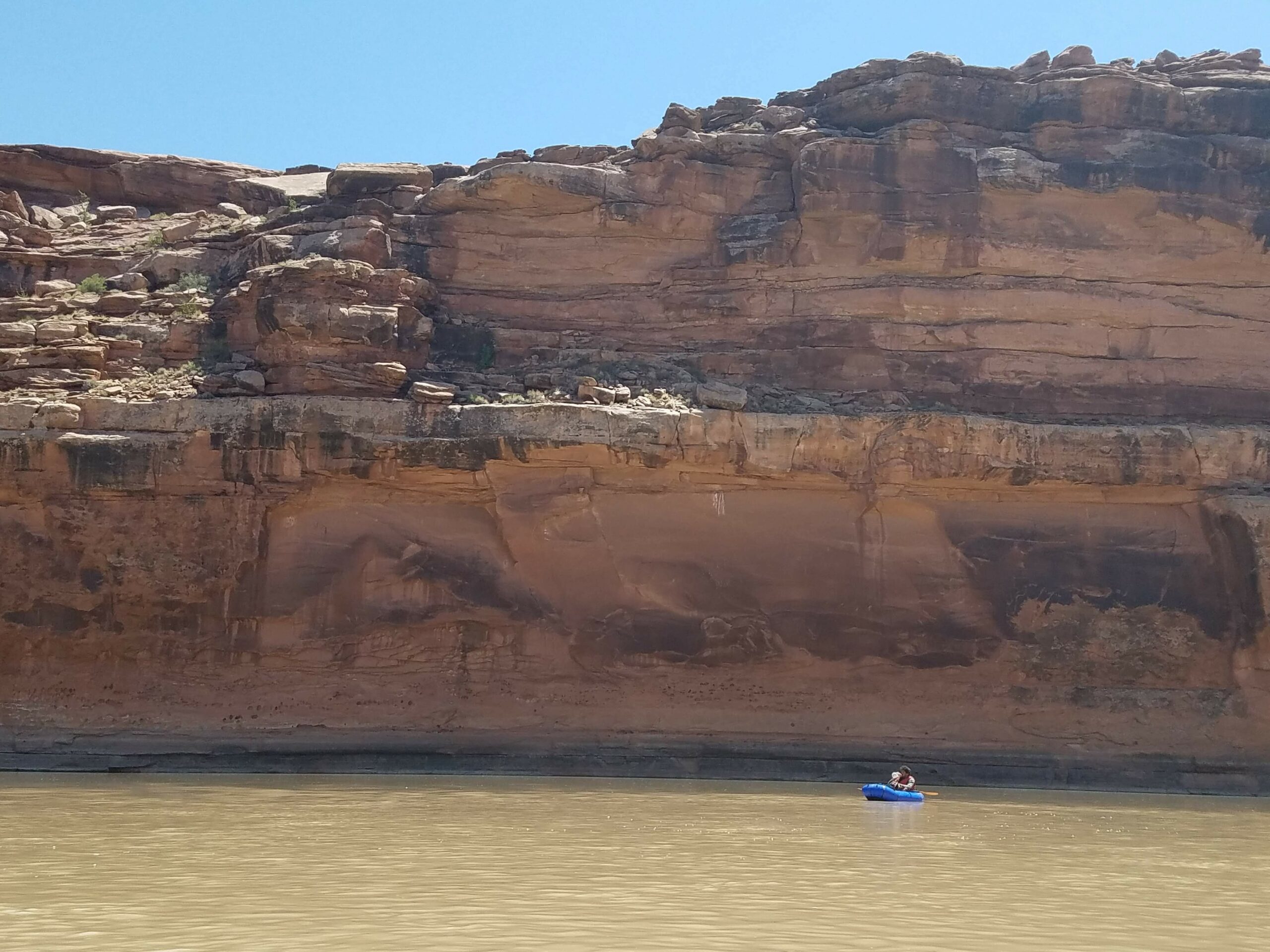 Cow Swim Canyon
from
Camping, Canyoneering & Packrafting Combo in a remote region of the Desert Southwest!
This is a big adventure that combines car camping, canyoneering and packrafting to visit an area that cannot be accessed without the use of ropes. Once in the canyon there is no escaping without the use of boats, so we'll carry our own lightweight packrafts through the canyon and deploy them at the river!
Vacation Style

Holiday Type
All about the Cow Swim Canyon.
Duration: 9 – 12 hours (canyon & river time)

Drive time: 2.5 hours, one-way

Difficulty: Moderate – Difficult

Season: Year Round, best in Spring & Fall

Rappels: 2 (85ft/22m, 155ft/43m)

Climbing: A few fourth class down climbs up to 20ft/6m. Ropes may be used for hand lines or belays.

Swims: None, though there is much wading in shallow water.

Rapids: None, just an incredibly scenic flat water float!

Total Distance: 6mi/9.5km of hiking & 5mi/8km of packrafting on flat water

Price:

All tours are private
2 people – $460/person

3 people – $414/person

4-9 people – $368/person
The morning could not start in a more beautiful place. Camped hundreds of feet above the river, we are afforded an incredible 360 degree view – a view that was hardly taken in yesterday afternoon as we drove out to the rim camp. We enjoy an early breakfast as we gather an odd assortment of gear that all fits neatly into our packs.
A harness, helmet and gloves accompany the usual snacks and water. But wait! Now we slip our 5 lb. packraft into our packs along with a 4-piece kayak paddle? No problem!
All at once, we set out on a cross country hike along the river's rim. The scenery of this isolated place is unparalleled. Slowly, a deep and narrow canyon begins to show itself. We scramble down into the head of the canyon and don helmets, harnesses etc. If it is early season then wetsuits are a part of the necessary gear.
That's right! We must squeeze and wade through narrows and pools to reach the first of two rappels. At 85', the first rappel is simple and straightforward, offering a great intro or refresher. Avoiding the heart shaped pool half way down, we finish the rap, landing in soft sand.
More hiking and down climbing lead to the second and final rappel. Looking down the 155' drop, it becomes apparent that there will be a significant free hang on this rappel. This means that the rock wall slowly gets farther and farther away, providing a delightful dangle! But caution must be exercised when landing at the bottom of the rappel.
Poison ivy dots the edges of a pool and we must be intentional as we pick our way back to open terrain (pants recommended!)
A ½ mile hike down canyon brings us to the confluence with the river. How do we get out of here anyways? It's a good thing we've been carrying these boats all day! In a matter of a few minutes, our boats are inflated and we load our packs in the front of the boat in preparation for a 5 mile, calm water float.
A time to relax, take in the scenery, snack and maybe do a little paddling too.
The float ends abruptly as we approach a nondescript side canyon. After rolling the boats up and returning them to our packs, we begin a steep hike up and out of this canyon. Upon reaching the top of the canyon, we find that our vehicle is right there waiting for us! Time to hop in the van and head back to town.
This trip is a very long day with a total of six miles of hiking and five miles of boating. Adding the challenges of the canyon itself makes this a big day indeed!
Don't like camping? If you're an early riser, we can meet at our shop in the morning (think 5am!) and drive 2-3 hours out to the canyon.
The tour package inclusions and exclusions at a glance
What is included in this tour?
Items that are included in the cost of tour price.
All camping gear (sleeping bags, sleeping pads and tents)
All canyoneering gear and safety equipment
All packrafting gear and safety equipment
Private tour – just your group plus your guide(s)!
Instruction from experienced and fun guides
Transportation to and from the canyon
Meals – breakfast and lunch on day 2
What is not included in this tour?
Items that are not included in the cost of tour price.
Water bottles – please bring enough water capacity to carry between 2 and 3 liters during the day. We will provide water for refilling your personal bottles.
Dinner – we recommend you pick up dinner in town or we can stop in Green River on our way to camp